A couple of weeks ago the Lovely Julie and I celebrated our 8th wedding anniversary.  As she will tell you, my cooking is how I "got" her, so I always like to break out the verve for our anniversary dinner.   Also I have had a craving for veal saltimbocca that has been lingering for far too long due to an inability to find good veal dishes when we go out.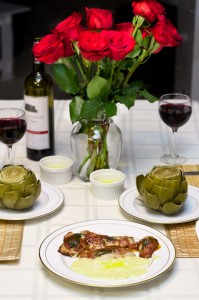 The menu for our Roman Feast was Veal Saltimbocca alla Romana, Polenta, and Steamed Artichokes.
For the Saltimbocca, I followed this recipe from Tyler Florence on the Food Network.  The polenta is an old standby recipe from my America's Test Kitchen
cookbook.
The artichokes were a first.  They always seem expensive when I'm staring at them in the store and I've never been sure how much effort they would be to prepare.  Following the directions from  America's Test Kitchen
  the preparation turned out to be very straight forward.  Keeping things simple, they were served with a little clarified butter on the side.  The artichokes turned out to be very tasty though a large artichoke is quite the commitment for a side dish.  Next time I might try a recipe that involves trimming them down to the heart for a more manageable portion.
All in all it was a successful meal to celebrate a successful year.